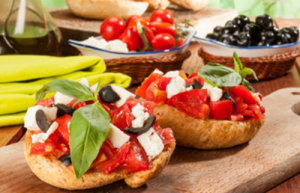 The word ΤΟΠΙΚΟΦΑΓΙΑ  is a new and correct Greek word describing the tendency of consumers to prefer food produced near the place where they live. Maybe we are the first to have used this word in the context of the European Programme "Let your food be your medicine» (www.foodmed.eu). I remind that the title of the program corresponds to the familiar words of Hippocrates, who was not only the first doctor of medicine but also the first dietitian in history.
Eating fruits, vegetables and meat grown or brought up close to (perhaps up to 50 km) our residence, corresponds to the above definition. We note that there are already similar, common greek words like ΧΟΡΤΟΦΑΓΙΑ (vegetarianism),) ΨΑΡΟΦΑΓΙΑ (eating of fish), ΚΡΕΟΦΑΓΙΑ (eating of meat), etc ..
Usually ΤΟΠΙΚΟΦΑΓΟΙ prefer seasonal and fresh products. The English term is localvorism. It should be noted that localvorism is good not only for our health but also for the environment as it reduces energy consumption for transportation and maintenance of products.