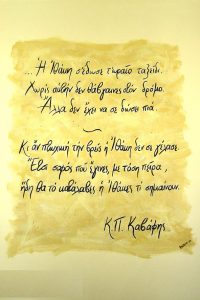 Last week we discussed about the poet K. Kavafis and about his "Ithaki" in relation to the first verses of Odyssey. Two of our students recited the poem the best way they could, of course with the help of our Principal.
One of the students was a German psychotherapist who married a Greek last year and came to live in Greece.
The other one was a German chemical engineer with Greek origins.
During the discussion that followed regarding the wandering of each of them to find their own "Ithaki", the students recounted their own, or their family's stories of wandering, which they also wrote down in detail. We will present them to you in our next newsletters.
In the meanwhile, let's remember again Odysseys' verses and Kavafis' "Ithaki".
ΟΜΗΡΟΥ ΟΔΥΣΣΕΙΑ
ΡΑΨΩΔΙΑ Α
ΟΙ 3 ΠΡΩΤΟΙ ΣΤΙΧΟΙ
Άνδρα μοι έννεπεν μούσα πολύτροπον ός μάλα πόλλα
Για τον άνδρα πες μου μούσα τον πολύτροπο, ο οποίος πάρα πολύ
Πλάγχθη επεί Τροίης ιερόν πτολίεθρον έπερσεν
Περιπλανήθηκε αφού της Τροίας την ιερή πόλη επόρθησε
Πολλών δ'ανθρώπων ίδεν άστεα και νόον έγνω
Πολλών δε ανθρώπων ίδε τις πόλεις και την νοοτροπία τους γνώρισε
Σα βγεις στον πηγαιμό για την Ιθάκη,
να εύχεσαι νάναι μακρύς ο δρόμος,
γεμάτος περιπέτειες, γεμάτος γνώσεις.
Τους Λαιστρυγόνας και τους Κύκλωπας,
τον θυμωμένο Ποσειδώνα μη φοβάσαι,
τέτοια στον δρόμο σου ποτέ σου δεν θα βρεις,
αν μέν' η σκέψις σου υψηλή, αν εκλεκτή
συγκίνησις το πνεύμα και το σώμα σου αγγίζει.
Τους Λαιστρυγόνας και τους Κύκλωπας,
τον άγριο Ποσειδώνα δεν θα συναντήσεις,
αν δεν τους κουβανείς μες στην ψυχή σου,
αν η ψυχή σου δεν τους στήνει εμπρός σου.Να εύχεσαι νάναι μακρύς ο δρόμος.
Πολλά τα καλοκαιρινά πρωιά να είναι
που με τι ευχαρίστησι, με τι χαρά
θα μπαίνεις σε λιμένας πρωτοειδωμένους·
να σταματήσεις σ' εμπορεία Φοινικικά,
και τες καλές πραγμάτειες ν' αποκτήσεις,
σεντέφια και κοράλλια, κεχριμπάρια κ' έβενους,
και ηδονικά μυρωδικά κάθε λογής,
όσο μπορείς πιο άφθονα ηδονικά μυρωδικά·
σε πόλεις Aιγυπτιακές πολλές να πας,
να μάθεις και να μάθεις απ' τους σπουδασμένους.

Πάντα στον νου σου νάχεις την Ιθάκη.
Το φθάσιμον εκεί είν' ο προορισμός σου.
Aλλά μη βιάζεις το ταξείδι διόλου.
Καλλίτερα χρόνια πολλά να διαρκέσει·
και γέρος πια ν' αράξεις στο νησί,
πλούσιος με όσα κέρδισες στον δρόμο,
μη προσδοκώντας πλούτη να σε δώσει η Ιθάκη.

Η Ιθάκη σ' έδωσε τ' ωραίο ταξείδι.
Χωρίς αυτήν δεν θάβγαινες στον δρόμο.
Άλλα δεν έχει να σε δώσει πια.

Κι αν πτωχική την βρεις, η Ιθάκη δεν σε γέλασε.
Έτσι σοφός που έγινες, με τόση πείρα,
ήδη θα το κατάλαβες η Ιθάκες τι σημαίνουν.
If you want to listen the recital of Ithaki by Gregory Valtinos, click here.