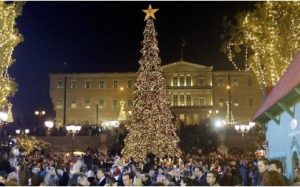 The Municipality of Athens and the Organization of Culture, Sport and Youth organize a series of events in Athens to celebrate Christmas. We present a very special one.
10 December – 8 January
Museum of Folk Art & Tradition "Αγγελική Χατζημιχάλη" (Angeliki Hatzimihali)
"Christmas at Angeliki Hatzimihali's house"
The traditional Christmas tree and the Christmas decorated table in the dining room will help the visitors to feel the traditional Christmas atmosphere of Athens. They will also listen to traditional carols from all over Greece, they will participate in Greek custom ceremonies and they will attend guided tours in the house.