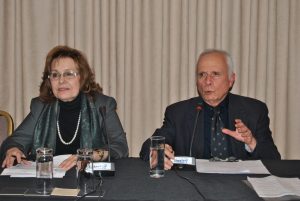 The president of our school, Konstantinos Karkanias, spoke on Monday 9th of January at the conference with the title "The dynamism of Ancient Greek" held at Hilton in Athens, which was organized by the Organization for the Promotion of the Greek Language (ODEG). Mr Karkanias presented the topic "Teaching of Ancient Greek in European countries and the respective educational material". He referred to what is applied in each country separately and also to the general trends.
He also mentioned the significant effort of EUROCLASSICA for the support of Classical Languages, as well as the contribution of ODEG and our School to this effort. Finally, he showed the positive influence of the learning of Ancient Greek and the studying of Ancient Greek texts on young people, who become this way better people, better citizens and better scientists.
During the conference were exposed 60 textbooks of Ancient Greek Language used in High Schools of European countries, which had participated in the International Competition of Ancient Greek of 2008.
You may find the speech of Κ. Karkanias here and also the list of textbooks here.