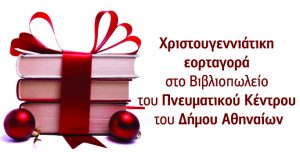 A unique Christmas Market will be organized at the Bookshop in the Cultural Center of the Municipality of Athens. The Organization of Culture, Sport and Youth of the Municipality invites every one to visit it and choose among a variety of books, posters and cards, which can be a special Christmas gift!
The opening hours of this market are from the 1st of December till the 23rd of December and from 28th of December till the 30th of December, from Monday till Saturday 09.00-21.00 and on Sunday 09.00-14.00. Reasonable prices (books and posters from 1 euro, cards from 0,5 euros).
The books are focusing on the history and culture of Athens and their subjects are painting, cinema, sports and the history of Greece.