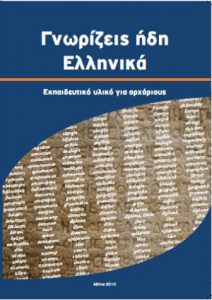 The book "YOU ALREADY KNOW GREEK" is ideal for foreigners that want to learn Greek and are beginners (Levels Α1-Α2). This method, as proposed from its name, is based on the gathering of "common" words, their division into different subjects, the adding of authentic texts, the enriching with the necessary grammatical phenomena and the creation of exercises and activities.
This book was created in the frame of the European Program "Education and Culture. A Continuing education program". The British Hellenic College and the School of Greek Language and Culture "Alexander the Great" were the coordinators.
The book is published and distributed by ALPHA Publications and is used for the teaching of Greek for the first levels by our school.