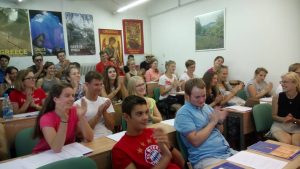 We were very pleased to welcome 32 students and 4 professors of the Classical Gymnasium of Ljubljana, one of the oldest in Europe.
The 32 young students of the 5th class filled our school with colours and smiles!
Our director K. Karkanias presented our school to them and proceeded with a short "lesson" based on our method "You already know Greek".
He delivered to the students (gave?) a small dictionary of 108 Greek words, which exist in the Slovenian language and he spoke about the Travel of Words.
He also delivered a two-page text entitled "I LEARN TO READ GREEK WITH WORDS I KNOW" and showed them how easy is the learning of the Greek Alphabet and the Greek diphthongs.
At the end he presented to the students our ideas regarding the programs "THE RETURN OF ODYSSEUS" and "THE RETURN VOYAGE OF THE ARGONAUTS FROM THE BLACK SEA THROUGH THE DANUBE TOWARDS THE ADRIATIC SEA".
The students asked a lot of questions about the school and the teaching of Greek language and wanted to take pictures with us.