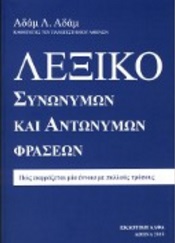 The dictionary of synonymous and antonymous phrases is a magnificent book, which is useful for whoever wants to express himself in a way that attracts the interest of the others. This book is mainly addressed to students, professors, journalists, lawyers and politicians.
Mr Adam L. Adam, Professor of the University of Athens, has collected a great series of idiomatic phrases and he has classified them into 159 categories, which facilitate the reader to use them.
To read more about the book or order it, click here.