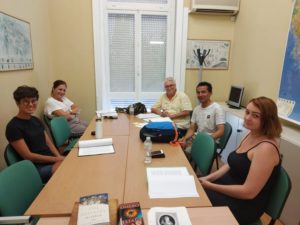 ---
This year, from June until August we taught with success the Ancient Greek language in three groups of students from Switzerland, Kenya and USA. Some of our students who learn Modern Greek are already professors of Ancient Greek or they have learnt Ancient Greek.
This fact gives us the opportunity to organize mutual events. One of these was the reading of passages from Odyssey (Rhapsodies 6, 7, 8) for the love of Nausicaa for Odysseus which 
has been organized by our administrator Konstantinos Karkanias. In this event the participants were our students as well as two friends of ours and professors from Columbia. We read in Ancient and Modern Greek, in English and in Spanish.