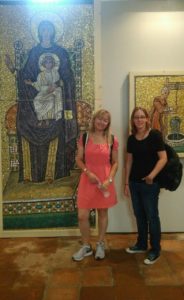 ---
Last week, our students from Thessaloniki visited a very interesting exhibition that takes place in the monument of Rotunda.
The exhibition hosts impressive 19th century mosaics from the city of Ravenna and from Thessaloniki. The students had the opportunity to admire the exhibits and to be guided around the Rotunda by their teacher. After their visit, they took plenty of photos together with their classmates.
Visits to museums are a vital part of our educational program and they help our students get in closer touch with the Greek culture.