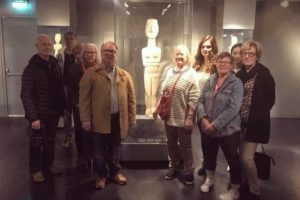 ---
The museum of Cycladic art is one of the most important museums in the Greek capital. Among its exhibits are items from the prehistoric art of Cyclades islands and the Aegean sea.
Last Thursday our students visited the museum and were shown around by their teacher. They particularly enjoyed the exhibition of the Cycladic statuettes as well as the Cypriot collection. Before leaving the museum they took a group photo to commemorate their visit.
Visits to Greek museums are a vital part of our educational program and our students attend them without a cost. We believe that activities in which students get in touch with the Greek civilization help them understand better the Greek mentality and add to their overall learning experience.