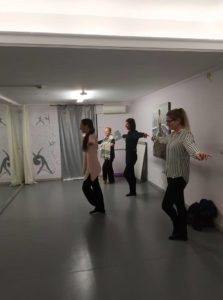 ---
Syrtaki is, without a doubt, the most famous Greek dance in the world. The name syrtaki comes from the Greek word "syrtos" (slow), a common name for a group of traditional Greek dances, in which the dancers "drag" their feet. Syrtaki, however, has elements of slow are well as quick dances.
Last week, some of our students in Athens, guided by their dance teachers Mrs. Sklaveniti, learned the basic syrtaki steps!
The students were very happy that learned how to dance the famous syrtaki, written by the great Greek composer Mikis Theodorakis for the movie Zorba the Greek, in 1964.