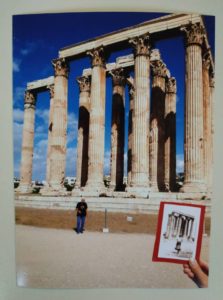 ---
It is amazing how good relationships we develop with our students and how much they love us and Greece. Our student Verena from Switzerland, aged 80, is a Greece lover and has come to our country many times since the 50's.
Verena stayed at our school two weeks and wrote a moving letter to our director:
---
October 18
Dear mister director,
As I promised, I am sending you some pictures. I also send you a little book for your library.
I learned many things at your school. I am very happy about it. 
I am now reading the songs' translations in the cold winter. The visits to museums gave me strength and the delicious food satisfied my soul and body. THANK YOU! 
With friendly regards, 
Verena
I really like the cook book!
---
This is a letter which makes us try even more.
Apart from the letter, Verena sent us a photo of her in front of the Temple of Zeus (17/07/2018) and the same picture shot on 17/07/1958.