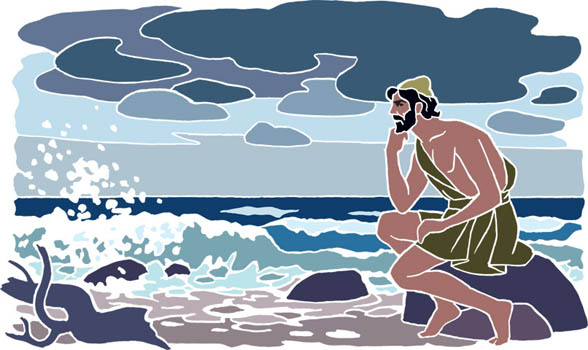 Zaki has been our student during last November in order to improve his Greek. He came from an Arabic country. The family of Zaki were Greek Muslims living in Creta (usually they are called Turkish Cretans or Tourko-Kritikoi) and during 1896 they had been moved to Libya, which at that time was a province of the Ottoman Empire.
The Odyssey of Zaki's family follows.
The story of me and my family, as far back as I could trace, has been a story of traveling and extraordinarily destined crossing of paths.
At the end of the 19th century a ship full of families was sailing towards the south of Creta crossing the Libyan Sea. Passengers had left their homes and most of their valuable possessions if not all back in Crete. The Great Powers had just forced Ottomans and Greeks to establish a new state in the island. Thousands of Cretans were forced out of their land and sent to other Ottoman states. Cyrenaica (today's East Libya) seemed to be the closest and best option for those coming from Chania: Crete's gem from which my ancestors had to migrate.
On this trip, life was gifted and taken away. Aisha lost her husband soon after landing in Sousa (anciently known as Apollonia). She was left with no family whatsoever, but she soon married Hussein Katsoherakis; a young man who had left four brothers back in Ebrosnero (a village in the province of Apokoronas of the Perfecture of Chania, Creta). The couple would give birth to Ali; my grandfather.
While still aboard the boat, another Hussein was born. He would later have nine children in Sousa including Mevedeti; my grandmother.
Allegedly, few years or decades (or maybe centuries) before that, a group of Cretans had to escape another conflict zone within their troubled island and settle in Lefkada where they founded a village called Sfakiotes. My other grandmother, Martha, was born there. She too had to cross to mainland with my grandfather, Christos, after a massive earthquake hit the island in the 1960s.
My parents had their share of relocation within their respective home countries. My mother moved with her parents from Lefkada to Arta, then alone to Corfu and Athens to pursue her studies and career in tourism and hotel industry. My father on the other hand, moved between Sousa and Massa in the Green Mountain of Libya, then to Benghazi, before embarking on a little more global tour. One day he decided to visit the land his ancestors left in 1898, that's how my parents accidentally met in Athens.
I was born in 1984, when my parents were living in Greece for a couple of years. I spent my following fourteen years in a Libyan oil port town. The 1990s was not a very pleasant decade for Libyans. Libya was under embargo and international flights from and to Libya were banned. For us to pay our biennial visit to our poor grandmother, we had to drive or sail to Greece or to a nearby country from which we could fly. But for a reason, I am now glad we had to sail our way to Greece!
In 1995, our chosen route to Greece started from Benghazi's seaport and ended at Piraeus harbor with a stopover in Izmir. The three-day sail was more than enough for me to play (and fall in a childish love) with the two years younger beautiful girl who was also going to visit her grandmother in Orchomeno. I was more than lucky to have her company on our trip back to Benghazi two months later. The joy was short lived because we lived hundreds of kilometers apart in Libya.
I moved to Benghazi with my family on 9-9-1999, completed my high school and university studies and got hired on an international assignment in 2007. It turned to be a major life changing point after spending six years strictly within Benghazi area. Over the course of the following ten years I had traveled to France, Algeria, UAE, Oman, Turkey, Bahrain, Malaysia, Italy, Egypt, Tunisia and, well, Greece.
One extremely hot day during my first year abroad, I was at a Sahara field location when I received a message: a greeting from someone who thought she should say "hi" to an old traveling companion. It was the first contact in thirteen years with my childhood's first love. We started something great that had been long lost and never expected. Five months later, in a cold, rainy Athens, I was on one knee proposing. We were, once again, paying visits to our relatives in Greece!
We traveled the world together. We had our first son in Oman where we lived for six years. A year ago, a global crisis in the sector I worked for saw us leaving and settling in Greece ever since. A month ago, we were blessed with a second baby boy. Staying permanently in Athens, we've got the chance to realize many of our dreams. We are now trying to figure out our next step in this journey, only God knows where it will take us!