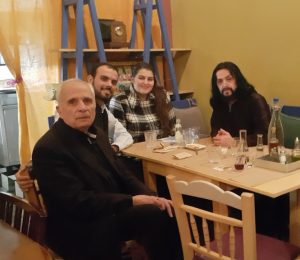 "Ασθενής και οδοιπόρος" (Patients and travelers)
During our dinner at OXO NOU (a Greek tavern with Cretan food near Exarchia Square) on 24th November, we were discussing about Cretan Kitchen and we mentioned a great herb, stamnagathi, which originates from Crete. Our student Zaki, who has Cretan origins, knew it and thus we ordered "Sfougato stamnagathi", which is fried stamnagathi with eggs – a very delicious dish.
When the waiter served it, our Director who fasted for religious reasons (40 days before Christmas) hesitated to taste it due to the eggs. As he said, if he were a traveler, he could have not stayed faithful to the fast due to the popular rule «Ασθενής και οδοιπόρος αμαρτίαν ουκ έχει» (non fasting is not a sin for patients and travelers).
Then, Zaki noted that, this exception from the fast for patients and travelers exists also in Quran.  (Chapter B, verse 184).
The full text is: "The fast will last for specific days. The sick person and the traveler, though, who will not fast during this specific time period, they ought to fast later for the same amount of days.
(Quran, ΚΑΚΤΟS 2006, Translation into Modern Greek from the classical translation of G. Pentakis, Alexandria 1885).
The discussion between an Orthodox, a Catholic and two Muslims regarding the fast continued up to very late. Of course, the beneficial impact of fasts on humans' health was mentioned.