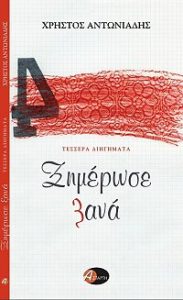 The Director of our school in Thessaloniki, Christos Antoniades, does not only teach Greek, but he is also an author. His second book, titled «Ξημέρωσε ξανά – Τέσσερα διηγήματα» (The sun has risen again – Four stories) was recently published by Astarti publications.
Christos Antoniades was born in Thessaloniki in May 1975. He has a Master in Classical Literature. During the recent years he teaches Greek to immigrants and foreigners and he is the director of the school in Thessaloniki.
The four stories originate from the dialog between Antoniades and the lyrics and music of Mr Tilaveridis.
You may find the presentation of the book of Mr Antoniades here .