The family's occupation for generations had been farming and distillation.  This tradition originated from the village Kumkoy ή Ammohori northwest from the lake Askanias in the area of Michalitsi near the city of Proussa, Asia Minor (now the Turkish city Bursa).
Konstantis Koumaroglou had a vineyard larger than 10 hectares and he was exporting his distillation's products through Italian traders abroad.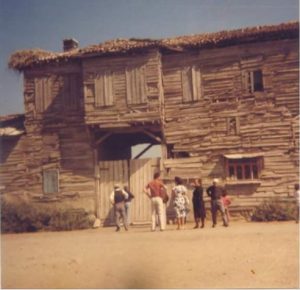 Kumkoy, Kumkadi
The house of Koumaroglou Konstantis in 1990 in
Kumkoy, near Proussa.
              It was photographed by Kostas' father who had visited the place of his ancestors.
Due to the exchange of populations (1923 Treaty of Lausanne), Koumaroglou family came to Greece and was found at first in Drama (Macedonia) and then in Omorfohori village in Larissa (Thessaly). The first vineyard was planted in the area of Moriotopia in Omorfohori in 1930 from Vasilios Koumaroglou, son of Konstantis.
Today the tradition continues by their descendant, Kostas Bounias, our accountant.