Starting date: Monday, July 6th
Level: Α1 and A2 (same starting date for both courses)
Duration: 7 weeks for each level (40 hours:  6.7.2015 – 22.9.2015)
Lessons 6 hours per week:         Monday               17.00 – 20.00
Wednesday        17.00 – 20.00
Cost: 250 € in total (special price)
The educational material (books and cd) is included
Minimum number of participants: 4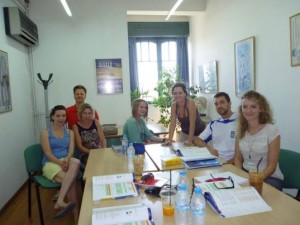 More Information:
Website: www.alexander-edu.org
Facebook: https://www.facebook.com/alexander.greek.52
https://www.facebook.com/hellenicschoolalexander?ref=aymt_homepage_panel
Tel. number: 210 8217710
Address: 2 Rethymnou, 106 82 (next to the Archaeological Museum)
Note: Every student is obliged to pay the amount of 50€ upon his/her registration as a deposit. The fees should be paid on the 7th of July and the 20th of July by paying 100€ each time.
In case that the number of students is not finally completed, the deposits will be returned.