On the last Thursday of January we went to a really amazing tavern in the city center, the Music Café, at 2 Feidiou Str. We were a small company – our three students (from the USA, Germany and Switzerland), our teacher Eva and Maria Karkania, the Public Relations manager.
The tavern is quite small. From the outside it looks like a traditional cafe but when you get inside it is amazi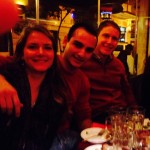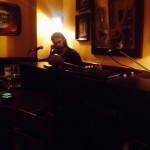 ng.
The owner, Stratos Stratigopoulos – a well-known musician – plays the piano and his son plays the bouzouki. Kalomira sings along. They cover a wide range of Greek music which entertained us from 9:30 am until 1.30! The most important thing is the cozy and friendly atmosphere that the people of the Music Café create.
On the next day we had lots to discuss with our students about the Greek songs, the food and the Greek way of life and entertainment.
PS. This night out is part of our educational program. We always try to learn while having fun.